India Fact Sheet
India's amazing diversity offers you a colorful canvas to be painted with the rich landscapes and locations. Bordered by the majestic Himalayas in the north, edged by the spectacular coastline to the east and west. India offers a vivid kaleidoscope of landscapes and magnificent historical sites, with cities whose architecture recalls royal grandeur. It also offers golden beaches, misty mountain retreats, colorful people, rich cultures and festivities.
India round the year can offer you a dazzling array of destinations and experiences. All the three seasons offer amazing opportunities and experiences to capture. Check out our Library of images to see the various mood of India.
FOR INFORMATION REGRADING GOVERNMENT HOLIDAYS CLICK ON THE LINK BELOW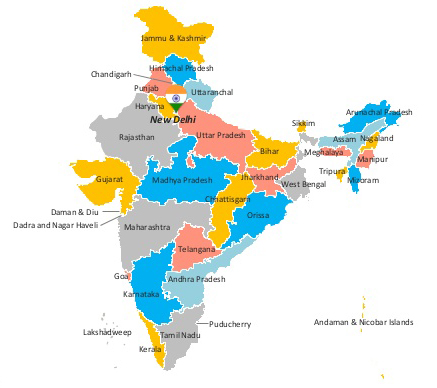 PERMITS
To shoot in India one requires permission from "The Ministry of information " Broadcasting" for Feature Films and for commercials, documentaries and music videos from "The Ministry of External Affairs." Both Ministers are located in Delhi.
PROCESSING TIME: It takes approximately 2 – 4 weeks to process the permission depending on the nature and content of project. In most cases we are able to get it processed in 7 working days and for Feature Films in approximately 3 weeks.
IMPORTING EQUIPMENT
Equipment can be imported on an ATA Carnet
HOTEL
India hosts some of the best hotels in the world and we are able to get you the best rates for most of them.
CURRENCY
Current Exchange rate for 1 USD is 64.28 INR (Indian Rupees)
WEATHER
Monsoon season starts in June and ends by the end of September. The hottest months of year are April to June in Western & Southern India and May to July in Northern India.
VISA
All non-Indians need a visa to enter India. The correct Visa type to get for shooting purpose is a 'J' Visa.
Processing times varies from 48 hours on a rush to 7 working days. You will need to get permission to shoot in the country from the Ministry in Delhi; before a 'J' Visa can be issued .We will guide you through the process.
CAMERA
Arri is very popular in India and is readily available to rent. Panavision and Movi-cam can also be sourced (subject to availability)
AERIAL PHOTOGRAPHY
The permit depends on the location you want to shoot at. A detailed flight plan needs to be submitted in advance for permission application. The application process will take 90 days (approx) of the DP is a foreigner and 45 days (approx) if DP is an Indian.
CELL PHONE
GSM mode. If you have a Tri-Band phone you should be able to make and receive calls in India. We recommend getting a local sim card , as that is convenient as well as economical.
DRIVING
Self driving is not recommended for foreigners. The best way to be on the move is to rent a car. In India rented cars come with a driver.