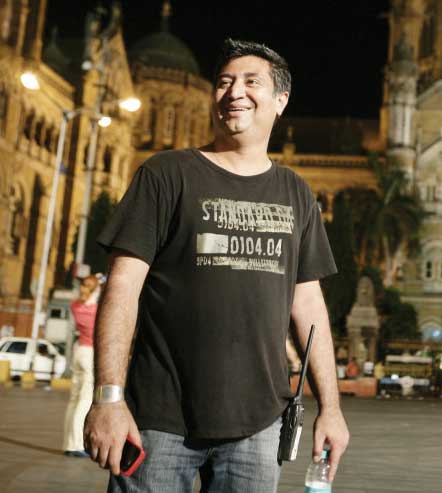 Tabrez has been involved in filmmaking ever since he was a schoolboy in Bombay. He received exposure to the field though his close relationship with uncle, Zafar Hai, a highly reputed commercial and documentary film maker in India. When Tabrez was a child, Hai even directed him in a number of commercials – Tabrez was most famously the "Complan Boy" in a long-running commercial of the '80's.Since then, Tabrez has been very firmly placed behind the camera, having started work as a production assistant whilst still in high school. He worked on a number of projects, including the 1987 feature film, "The Perfect Murder", directed by Hai and produced by Merchant Ivory. Tabrez then went on to work as a 2nd assistant director on many of Hai's films, before leaving for film school in the US in 1991.
From 1991, Tabrez attended Loyola Marymount University Film School in Los Angeles, which offers a comprehensive film program with emphasis on Directing and Producing. Whilst still at film school, Tabrez directed a number of commercials, music videos and public service announcements. His first student film, "Disturbance", won the best experimental student film at The Venice Film Festival in 1993. During this time, Tabrez started work on facilitating the shooting of American-made commercials and other projects in India.
As a result of Tabrez's film school education in the field of direction, as well as his intensive on-the-job training in production; he now comfortably wears both hats, on two different continents. In 1995, he formed India Take One Productions, with Deepak Nayar (a prominent Producer of such films as "Bend It Like Beckham" and "Bride and Prejudice" etc.) and Pravesh Sahni. India Take One, a production company specializing in the facilitating of production of U.S. and European commercials, features, music videos etc. in India. Sahni runs the New Delhi and Mumbai operations of the firm.
Tabrez's filmmaking background in the US, coupled with his familiarity with shooting in India, has made him a big asset to filmmakers wanting to work in India. A natural progression from Line Producing led to Tabrez directing 2nd Unit as well on a number of the projects he has worked on.
In 2010, "Miral", by Julian Schnabel, premiered at the Venice Film Festival. Miral was India Take One's first Co-Production project, with Tabrez as Co-Producer.
Some of the projects that Tabrez has been involved in as a Producer or Line Producer include, Oliver Stone's "Alexander", Albert Brookes' "Looking For Comedy In The Muslim World", Danny Boyle's "Slumdog Millionaire", "Mission: Impossible – Ghost Protocol", Ang Lee's "Life of Pi", Kathryn Bigelow's "Zero Dark Thirty" and Lasse Hallström's "Hundred Foot Journey." He has also worked on numerous Commercials for Pytka, RSA, HSI and Great Guns. Tabrez wrapped work on the Netflix original sci-fi produced by Lana & Andy Wachowski called "Sense8" late last year. He is now focusing on "Love Sonia", his first major directorial project – a film that promises to be a breathtakingly honest look at the global sex trade, told through the eyes of a young Indian girl on a mission to help her missing sister. The film is set in India, Hong Kong and Los Angeles. Along with this film, Tabrez is developing a TV series about modern day slavery and sex trafficking set in the United States.
Wanting to create a company that would focus specifically on his desire to create both film and television content, Tabrez formed Tamasha Talkies in 2012. Tamasha Talkies would not only involve content he wished to produce but also some he wished to direct personally. Later that year, Tabrez, along with his uncle, acquired the rights to the biography of Noor Inayat Khan, the first female radio operator to be dropped into occupied France during WWII, entitled "Spy Princess: The Life of Noor Inayat Khan" by Shrabani Basu. The project is in the early development stages as the duo search for a writer to adapt the amazing story to the screen.
In April 2013, Tamasha Talkies optioned the rights to the "Graceling" trilogy penned by Kristin Cashmore along with Reliance Entertainment, Kintop Pictures and Blu-Sky Media. The script is in the beginning phases. And in 2014, Tamasha Talkies, along with Kintop Pictures and Citrus Muse, also optioned the rights for Jessica Brody's "Unremembered" trilogy. The three companies also went in together on another of Jessica Brody's books entitled "52 Reasons to Hate My Father" in early 2015. Separately Tamasha Talkies acquired the rights to Martin Turnbull's epic series on the Golden Age of Hollywood, "The Garden of Allah," which has a total of nine books planned.
India Take One just wrapped Noorani's next co-production Gurinder Chadha's "Viceroy House." Noorani is heading for Release of His Directorial debut "Love Sonia," to which "Life of Pi" producer David Womark attached to produce.